---
---
Good News: From 2018 December, we have upgrade this kit with none-tooth form reflector. Which makes the bottom lights output more uniform and provides brighter and wider lights. Check the comparation picture below to see the actual result!
Item Description:
This projector is designed to meet the needs of most of the cars that has burnt headlight refector and with very low light output. If your exsisting projector burned after several years using, and the light output has been greatly decreased, it is time to replace them.This replacement projector lens is the best option for upgrading cars that came with older 3" bi-xenon HID projectors or Halogen projectors, and it's also ideally shaped for a traditional retrofit too.


The advantage of  the projector lens:
1. This 3.0 inch evox-r 2.0 lens is a new generation and improved for Hella G4/evox-R/E55 bi-xenon projector lens. It was developed to meet the demand of most car housing with fororiginal hella lens .
 
2. The brightness and width is improved greatly than OEM E55 and EVOX-R 1.0 lens
(1): About 600% brighter than for Hella E55

(2): About 50% brighter than for hella EVOX-R 1.0

(3): Have wider low beam pattern

(4): Direct replacement for hella projector lens in car headlights (check below to see details car models)                             
3. Good vibration resistance and stable lights output.
This lens fit to following cars ( please note that it may not be exactly the same design as your OEM projector, but this lens will fit these cars), but not only these cars. If you want to know which lens you should take, please contact us and tell us your car model/year/maker and we will help.
Fitment List :
For Audi A6 C5 2001-2004 (bixenon facelift model)
For Audi A6 C6 2004-2011 (for xenon headlights)
For Audi A8 2002-2009
For Audi A8 S8 D4 2009-2012
For BMW 5 series E39 2001-2002 (D2 xenon headlight only)
For BMW 5 series E60 2003-2006 (only for D2S headlight, without AFS.)
For BMW 5 series E60 E61 Saloon Wagon LCI 2006-2011
For BMW 7 series E65 2001-2008
For BMW X5 E53 1999-2006
For BMW Z4 E85 2002-2008
For Mercedes-Benz A-class W176 2012-now (a D1 to D2 adapter is needed)
For Mercedes-Benz CLK W209/A209 2002-2010
For Mercedes-Benz CLS W219 2004-2010
For Mercedes-Benz E-class W211 2003-2009 E200 E220 E280 E300 E320 E350 E420 E500 E55
For Mercedes-Benz E-class C207/A207 2009-2012
For Mercedes-Benz ML W163 2001-2005
For Mercedes-Benz ML GL W164 2006-2010
For Mercedes-Benz R-class 2005-2010
For Ford C-max 2003-2010 (for replace OEM hella)
For Ford S-Max 2004-2009
For Ford Fiesta 2009-2012 (replace halogen projector)
For Skoda Fabia 2010-2014
For Skoda Octavia 2009-2013
For Skoda Superb 2008-2015
For B5.5 2001-2005 (need certain modifications)
For B6 2005-2010
For Polo 6N2 1999-2001
For Touareg 2007-2010 (D1 to D2 adapter is needed)
For Mitsubishi Lancer EVOX-R 2008-2016
For Opel Vectra C 2002-2008
For Saab 9-3 2002-2007 (need certain modification)
For Porsche 911/996 1999-2004 (fit for original hella headlight)
For Chrysler Grand voyager 2008-2015 (a D1 to D2 adapter is needed)
For Range Rover 2001-2010 (only fit on hella headlight)
PLEASE NOTE
1.   The EVOX-R lens fits for the above cars. But they are not 100% the same design with the original projector lens in those cars.
2.   Some of the cars need modifications during installation. If you are care about the modification, think twice before buy the product.
Bulb Size: D2S
Feature: Bixenon projector lens, offers both high beam and low beam pattern. With sharp and clear low beam, and far and focusing high beam.
Beam Pattern: LHD Only
Brightness: 3400 LM
Lens Size: 3.0 inch
Lens material: High Clear Glasses
High/Low Control Motor: 2018 New updated motor with longer lifespan.
Certification: Sinolyn EVOX Projector Lens has passed CE test in Euro.
Package includes:
1 pair of replacement Projector lens
Sinolyn Projector Lens has passed CE test certifying its compliance with European standards. Please note that in Europe(including Russia), it is illegal to use headlight product that didn't pass CE test. Think twice before ordering headlight without CE certification!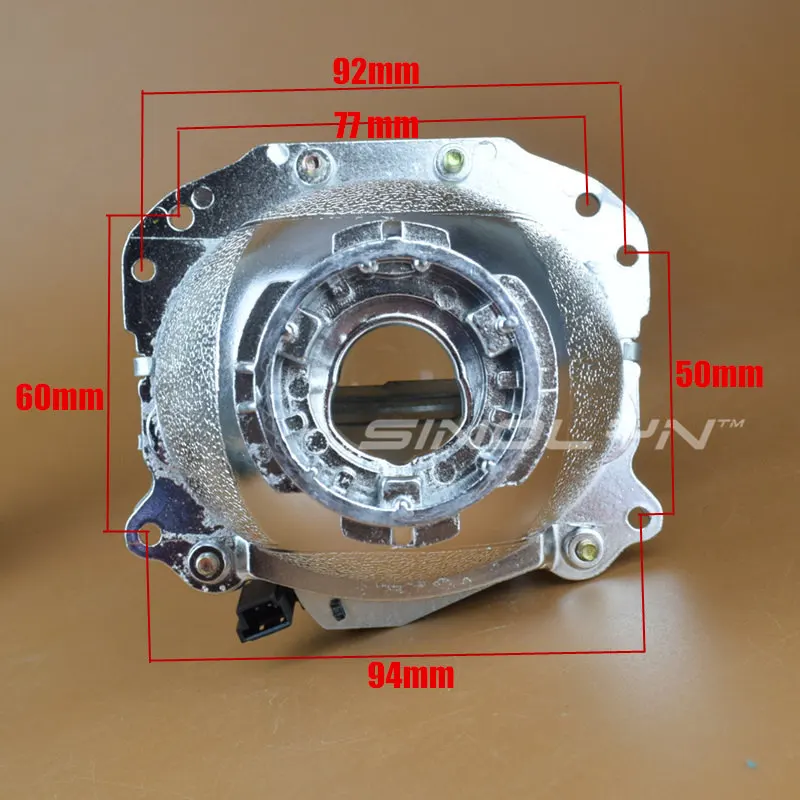 Attention: The real size may have 1-3mm difference as the size chart.
---